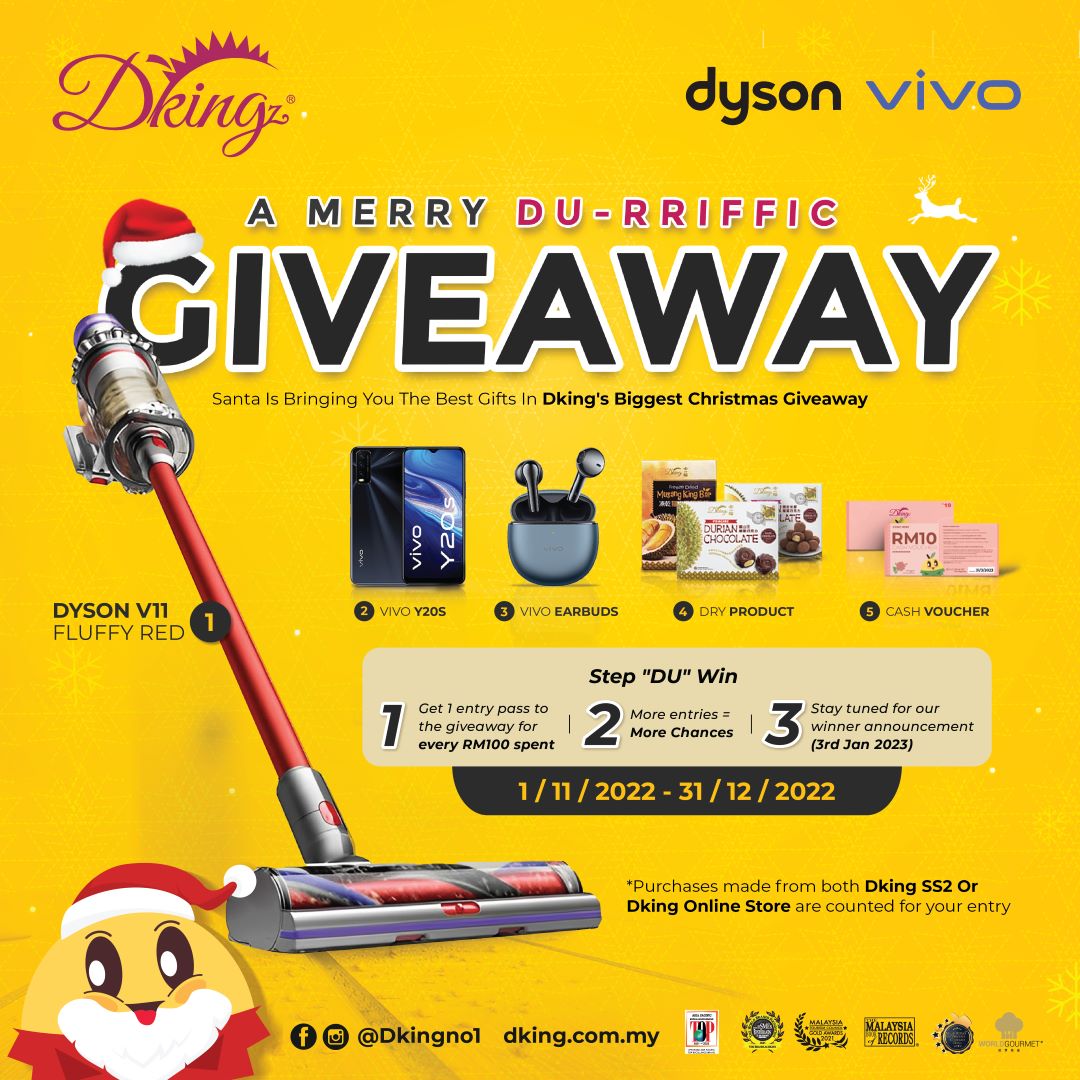 The contest is open to all Malaysian residents aged 18 years and above.

 

To participate in this contest, it is mandatory for the participant to:
i.

Make one (1) successful purchase with spending of at least RM100 (or more) to get one (1) entry ticket.


ii.

Participants can acquire more entry tickets with each RM100 (or more) purchase.


iii.

More entry tickets will increase the chances of winning the giveaway.


iv.

Participants can only submit one (1) proof of purchase.


v.

The number of entry ticket(s) will be determined by the spending amount stated in the proof of purchase.


vi.

All purchase transactions must take place within the contest period (1st November 2022 – 31st December 2022)

Participants who do not meet the criteria as stated above shall be automatically disqualified.

 

There will be one (1) Grand Prize winner and other winners will be selected at the end of the campaign/contest period.

 

The details of lucky draw contest winners will be posted on Dking website and social media channel within fourteen (14) working days from the end of the contest period.

 

The selected winners will be notified via telephone and could/would be invited for a prize presentation which will be held at Dking SS2, Petaling Jaya, Selangor at his/her own cost.

 

If the contest organiser fails to contact the selected winners in at least three (3) attempts during office hours (10.00 am – 6.00 pm), the qualification will be void and another qualifier will be selected.

 

Each selected winner is only entitled to ONE (1) prize; regardless of the number of entries entered.

 

The prizes are as below;
i.

Grand Prize: one (1) Dyson V11 Fluffy Red


ii.

2nd Prize: one (1) Vivo Y20S Phone


iii.

3rd Prize: one (1) Vivo Earbuds


iv. 4th Prize: one (1) Dking Dry Product
v. 5th Prize: six (6) Dking Cash Vouchers



Duricious Sdn Bhd aka Dking reserves the right to substitute the prizes with another prize of similar value without prior notice. The prizes are not transferable,  non-refundable and non-exchangeable for cash.

 

Duricious Sdn. Bhd. reserves the absolute rights at any time, without assigning any reasons to add, alter, modify, change or vary the rules and regulations contained herein, wholly or in part at its absolute discretion.

 

By participating in this Contest, participants agree to be bound by the Contest Rules & Regulations. NO correspondence, appeals or objections will be entertained. Duricious Sdn. Bhd. reserves the right at its sole discretion, to reject any winner or to disqualify any participant who is unable to satisfy the Contest Rules & Regulations, and all decisions made Duricious Sdn Bhd are final and binding.

 

By participating in the Contest, the participant agrees to release and hold harmless toward Duricious Sdn. Bhd. and the employees, officers, directors, shareholders, agents, and representatives of Duricious Sdn. Bhd., its parent company, affiliates, subsidiaries, advertising, promotion, and fulfilment agencies, harmless from any and all losses, damages, rights, claims and actions of any kind in connection with the Contest or resulting from acceptance, possession, or use of any prize, including without limitation, personal injury, death and property damage, and claims based on publicity rights, defamation, or invasion of privacy.

 

Duricious Sdn. Bhd. and its advertising and promotion and media agencies shall reserve the rights to use the winners' names, photographs and/or testimonials for purposes of publicity, advertising and/or trade without compensation or notice.

 

The Contest Rules and Regulations contained herein shall be governed by the Laws of Malaysia and parties hereby irrevocably agree to submit to the exclusive jurisdiction of the Courts of Malaysia in connection with any disputes and matters arising from the participation in this contest.

 

Applications of purchase that are incomplete, illegible, defeated or do not comply with the Contest Rules and Regulations will be disqualified immediately.

 

All participants are deemed to have read the Contest Rules & Regulations before participating in the contest.